"My Grandmother had one of those!"
That is what many people say when they see
the sumptuous display of Cranberry Glass here at Grimes House.
So many remember it fondly.
It really has a very special place in people's hearts.
The colour is so cheerful, so positive;
just one piece can cheer up any room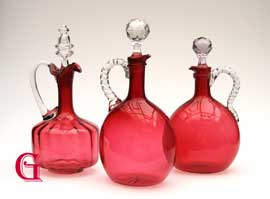 Cranberry Glass decanters
Previously sold items

The glass, which became known today as CRANBERRY,
was probably first produced in Bohemia in the early 18th Century,
of course at that time it was not known as Cranberry but,
more correctly, as a type of ruby glass.
This delicate and much loved colour of glass is made with a
thin layer of ruby glass in or outside a thicker layer of clear glass.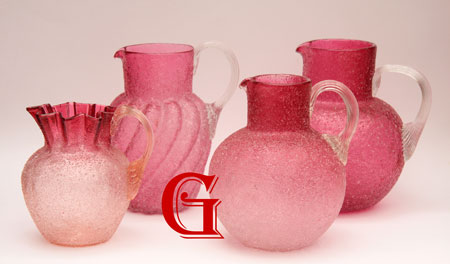 Cranberry Glass crackle glass jugs
SOME NOW SOLD

There was a phenomenal growth in design and style
throughout the 19th century after the abolition of the punitive Glass Tax
and more especially around the period of the Great Exhibition.
The heyday of Cranberry glass making was from 1870 - 1930
by which time it was produced in England, France, Belgium, Bavaria, Bohemia
as well as the U.S.A. The glassworks of America were mainly in New England,
this just happens to be where cranberries are grown,
so then, just as now, never short of a good idea when it comes to marketing,
the term Cranberry Glass was coined,
it does describe it's beautiful colour so very well.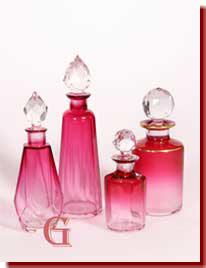 Cranberry Glass Scent bottles
Previously sold items

Often the prettiest and now most popularly collected pieces today
were produced around the Stourbridge area of the Black Country here in England.
Some of it was made in very small backyard factories and some in
the major glassworks of their day.
Factories such as Thomas Webb, Stuart, Richardson, Stevens & Williams etc.
produced some of the finest glass in the world.

From these makers and many more, including numerous continental factories,
came the antique Cranberry Glass that Stephen & Val now display for sale,
at Grimes House, The Cranberry Glass Shop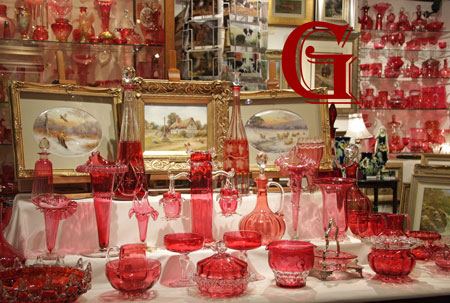 You would be very welcome to drop in for a chat,
we love to talk with collectors and
lovers of all good glass.

UNFORTUNATELY WE ARE UNABLE TO OFFER AN ONLINE APPRAISAL OR VALUATION SERVICE